For a resource and labour-intensive industry like construction, sustainability now goes without saying. With technological innovations coming in faster on the daily, it is now easier to develop solutions to problems in the industry.
The Pinoy Builders Team talked to Ronnie Liu, Marketing Manager of First Balfour, to define what it means to develop a decarbonized and regenerative future.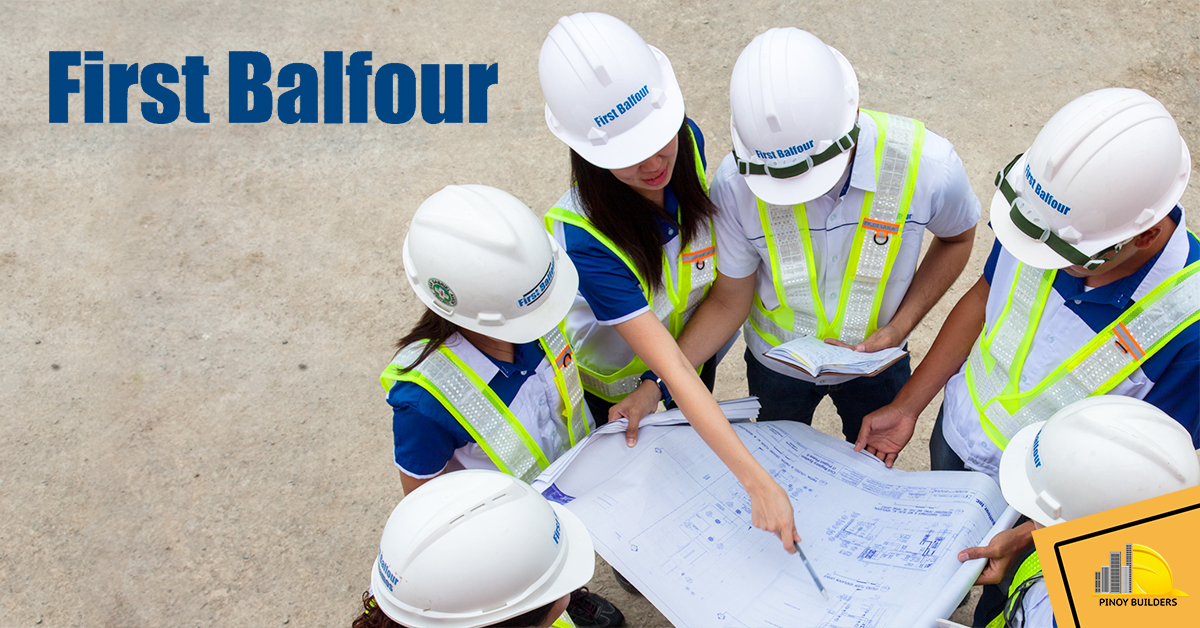 Who is First Balfour?
First Balfour, Inc. (First Balfour) has over 50 years of construction experience and contributes to nation-building by providing world-class engineering and construction services. It was one of the first construction firms to be certified as a Quadruple A contractor, and it is also one of the few firms to keep triple ISO certification consistently.
First Balfour is also proud of being the only Filipino construction company to earn Investors in People Gold accreditation, a worldwide standard for companies with outstanding management and empowered human resources.
First Balfour has also launched many corporate sustainability initiatives over the years aimed at improving the quality of life for families and individuals in its host communities by focusing on education and the preservation of the environment.
Apart from helping public schools through Brigada Eskwela, Project WASH (Water, Sanitation, and Hygiene), and school supply donations, First Balfour has had a successful run with Project K12, which supported the Department of Education's K to 12 program.
Also, simultaneous tree planting activities have long been a tradition in First Balfour. Since 2013, over a thousand staff volunteers have planted nearly 12,000 trees and seedlings in places where they have construction operations.
RELATED: How a Filipino Startup is Making Waves with Sustainable Housing
Defining sustainability
According to Liu, doing less harm is not good enough in the name of sustainability. We must now pursue transforming towards a model of regenerative development. This means leveraging engineering and construction capabilities to select infrastructure investments that are geared towards climate resilience and social inclusivity, ranging from mass transit to clean power projects.
For us in the First Philippine Holdings (FPH) Group, where First Balfour is a part of, we believe that pursuing sustainability that seeks only to do less harm is no longer good enough and that we all need to transform to a model of regenerative development.
Aligning with the new group mission of forging collaborative pathways for a decarbonized and regenerative future means First Balfour will deliver infrastructures that create resilience and elevate the quality of life of the Filipino people in this complex, climate-changing world.
Facing current challenges in the industry 
Following the 2020-2030 Philippine Construction Industry Roadmap, the company maintained its Quadruple A Contractor Accreditation and Triple ISO certification (ISO 9001 Quality Management System, ISO 14001 Environmental Management System, and ISO 45001 Occupational Health and Safety Management System) consistently for 19 years and counting. First Balfour also upgraded their Investors in People Certification (IIP) from Silver to Gold despite the impact of the COVID-19 Pandemic. The company prides itself on its people's strategy and management.
RELATED: The power of sharing: Charlie Ayco on renewable energy for sustainability
Encouraging sustainability through system integration
First Balfour fully supports the recommendations planned from the 2020-2030 Philippine Construction Industry Roadmap. For the construction industry, enabling an easier integration of sustainability involves legislating sustainability standards from the Local Government Units (LGUs) all the way to National level, made possible by setting government standards as guidelines on Quality, Environment, Safety, and Health (QESH) for LGUs.
Sustainability also involves putting people first. It can happen by supporting implementation of the Occupational Safety Hazards (OSH) Standards act through extending educational support for courses on green buildings, institutionalizing a construction research and development program, inserting sustainability principles any systems in architecture and engineering programs, and incentivizing the reduction of greenhouse gas emissions in the built environment and for building disaster-resilient infrastructure.
On building a decarbonized and regenerative future
In this complicated, climate-changed world, First Balfour supported nation-building by delivering more complex infrastructures that promote resilience and improve the Filipino people's quality of life.
First Balfour shares the mission of the FPH Group in developing collaborative pathways toward a decarbonized and regenerative future. According to them, this will enable them to shape and lead the transition to decarbonization and regeneration in the industries in which they choose to invest.
In integrating decarbonized and regeneration into their business, First Balfour aims to achieve:
Understand and learn more about decarbonization and regeneration as they recognized that we still have a long way to go compared to more advanced construction companies around the world.

To increase productivity and continue to reduce our consumption and wastage as they build transport and water infrastructure, buildings, and power utilities. Giving note that technology is very much needed to achieve that.

To influence owners or prospective clients to integrate sustainability into the design.

Digitalization to improve efficiency and integrating all of their systems to make them more robust.

Greening the supply chain for the procurement side.
RELATED: Urban planner and architect Felino "Jun" Palafox on Sustainability through Green Infrastructures
First Balfour places a decarbonized and regenerative future at the top of its priority list. There is a long way to go, but First Balfour finds this an exciting journey to pursue because they know they will bring greater value to society as they meet these goals.
To know more about First Balfour and its collaborations, visit their website at https://firstbalfour.com/.
Subscribe now to see more content like this in the future!