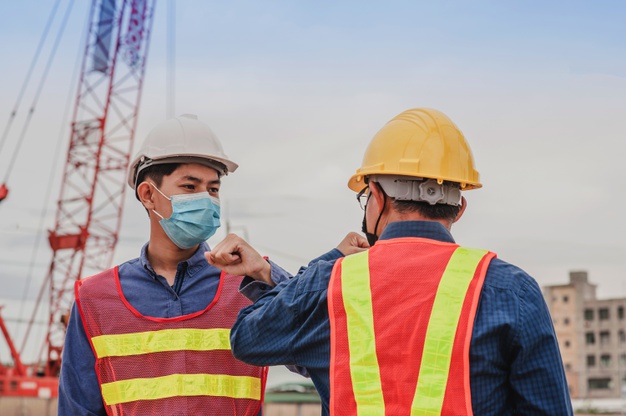 When the Greater Metro Manila Area was placed under Enhanced Community Quarantine (ECQ) on March 27, 2021, more than a year after the first lockdown was implemented, the Department of Public Works and Highways (DPWH) addressed the laborers' health and safety concerns in the workplace by issuing the Department Order No. 30, Series of 2021 (DO 30) or the Revised Construction Safety Guidelines for the Implementation of Infrastructure Projects During the COVID-19 Public Health Crisis. These revised health protocols aim to help construction companies create a safe work environment that protects employees from risks connected to COVID-19.
Recommendations from IATF
DPWH Secretary Mark A. Villar issued the Department Order on March 29, 2021, as recommended by the Inter-Agency Task Force on Emerging Infectious Diseases (IATF). It aims to balance economic growth through infrastructure development with public health and safety, amending Department Order No. 39, Series of 2020, issued May 15, 2020.
Following these health protocols apply to all employees in both government and private construction projects in places under Enhanced Community Quarantine (ECQ), Modified Enhanced Community Quarantine (MECQ), General Community Quarantine (GCQ), and Modified General Community Quarantine (MGCQ), with the exemption of small-scale projects defined as those that are for private and personal use only.
Monitoring and enforcement
On monitoring and enforcement, the allowed government and private construction projects are subject to visitorial powers of the Department of Labor and Employment (DOLE) and Department of Trade and Industry (DTI) to ensure compliance.
Both construction companies and employees play significant roles in preventing the spread of coronavirus in the workplace. Employers must follow specific guidelines to protect their workers from exposure to the virus from creating disinfection facilities at their respective project sites, to providing shuttle services to employees (for establishments with total assets above PHP 15 million). Employees/laborers, on the other hand, must also do their part in keeping the workplace COVID-free by following the health protocols laid out by the DPWH.
Revised Health Protocols
Below are the health protocols every laborer in the construction industry must follow as the country continuously battle the COVID-19 pandemic:

CITATION