In our modern society, environmental consciousness is becoming more important than ever. Adapting sustainable practices is necessary, and it has been more and more essential for major infrastructure administrations to consider environmentally friendly practices in order to comply with the increasing demand for sustainable buildings. Green infrastructures are now more than just unnecessary upgrades. Rather, they are a necessary quality that buildings should attain in order to reduce their carbon footprint and the harm it costs the planet.
One prominent certification granted to infrastructures that have committed themselves to adopting sustainable practices is the Leadership in Energy and Environmental Design. This important certification, more frequently referred to as LEEDS, is measured using a rating system developed by the U.S. Green Building Council (USGBC). In this article, we will highlight some of the most prominent LEEDs certified buildings today.
LEED Leaders
LEED has four levels namely green, silver, gold, and platinum, with platinum being the highest grade. This certificate is awarded to any building with sustainable features, regardless of its location. Below are some of the top buildings that have received the highest LEED grading from all around the world.
Shanghai Tower – LEED Platinum
Image from NPR
Designed by the American architectural firm Gensler, the Shanghai Tower is a magnificent LEED-certified infrastructure that stands more than 2,000 feet tall in the district of Pudong, Shanghai, China. As of today, the Shanghai Tower is the largest and tallest building to be granted a LEED certificate, which it received in 2015.
One Bryant Park – LEED Platinum
Image from The Real Deal
Located in Manhattan, New York City, and diagonally opposite Bryan Park, One Bryant Park is the first ever high-rise building to attain a LEED Platinum rating in the world. The building was designed by Cookfox and Adamson Associates and was later on developed for the Bank of America by the commercial and real estate company Durst Organization. 
TAIPEI 101 – LEED Platinum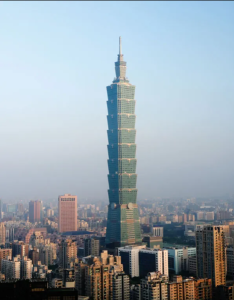 Image from Britannica
Previously called Taipei Financial Center while it was still in construction, Taipei 101 was the tallest skyscraper in the world at the time of its completion in 2004. Taipei 101 stretches up to more than 1,660 feet, including the sprite featured on the head of the building. It received its LEED Platinum certification in 2011 for its adoption of energy-efficiency systems and environment-friendly design, becoming the tallest and largest green building in the world.
Facebook Headquarters – LEED Platinum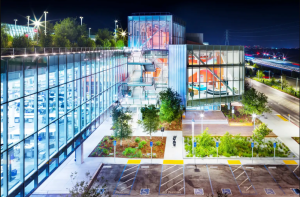 Image from Meta-Facebook
Located in Menlo Park, California, the Facebook Headquarters. One of the most prominent environment-friendly features of the Facebook Headquarters is the inclusion of a garden named "The Bowl" with multiple outdoor seating areas and a botanical garden. The amenities of this infrastructure feature a collaboration with mother nature, as greeneries and trees surround many of its buildings.
Vancouver Convention Centre –
LEED Platinum x2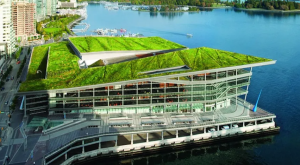 Image from The Northstar Meeting Group
Apart from the unique and literally green rooftop of the Vancouver Convention Centre, one feature that stands out from all the awards of this building is its LEED Platinum x2 certification. Located in Vancouver, British Columbia, the Vancouver Convention Centre stretches for 6 acres and is home to more than 4,000 indigenous plants that can only be found in the Gulf Islands. Another outstanding sustainable feature of this infrastructure is its capability to house wildlife on its rooftop. The Vancouver Convention Centre is home to approximately 240,000 bees, as well as a family of nesting Canadian Geese that returns to the rooftop every year to raise goslings.
Follow The LEEDers 
In the current state of our environment both small and large infrastructures should adopt sustainable practices to reduce carbon footprint. The buildings featured in this article are just a few of the highest-rated LEED-certified buildings in the world, and there are hundreds of thousands of other buildings that are adapting sustainable innovations to earn a LEED certification. 
However, there are still numerous infrastructures that do not follow an environmental-friendly design and continue to contribute to the further destruction of our planet by producing high amounts of greenhouse gases and harmful emissions. By following the example of these green buildings, we can begin to create a better future for ourselves and the planet. 
References:
Arch2O. (n.d.).

A New Expansion to Facebook Headquarters by Frank Gehry

. Arch2O. Retrieved July 12, 2023, from https://www.arch2o.com/expansion-facebook-headquarters-frank-gehry/

Biggs, J. (2021, June 13).

10 Iconic LEED-Certified Buildings From Around the World

. Procore. Retrieved July 12, 2023, from https://www.procore.com/jobsite/10-iconic-leed-certified-buildings-from-around-the-world

CIM. (2023, February 2).

The LEED Rating System explained

. CIM. Retrieved July 12, 2023, from https://www.cim.io/blog/the-leed-rating-system-explained

Hullebusch, J. (2019, March 6).

20 of the Most Famous LEED Certified Buildings

. Air Fixture. Retrieved July 12, 2023, from https://airfixture.com/blog/famous-leed-certified-buildings

Tower, W. (n.d.).

Taipei 101

. Wikipedia. Retrieved July 12, 2023, from https://en.wikipedia.org/wiki/Taipei_101

Wikipedia. (n.d.).

Bank of America Tower (Manhattan)

. Wikipedia. Retrieved July 12, 2023, from https://en.wikipedia.org/wiki/Bank_of_America_Tower_(Manhattan)

Wikipedia. (n.d.).

Shanghai Tower

. Wikipedia. Retrieved July 12, 2023, from https://en.wikipedia.org/wiki/Shanghai_Tower