Having a small living room doesn't mean that your space has to be cramped and cluttered. The last thing that you'll want to do in a tiny room is to spend time in there.
There are tons of small living room ideas and tricks to help turn that awkward, small living room into a comfortable, stylish oasis for you to make it feel and look bigger than it actually is.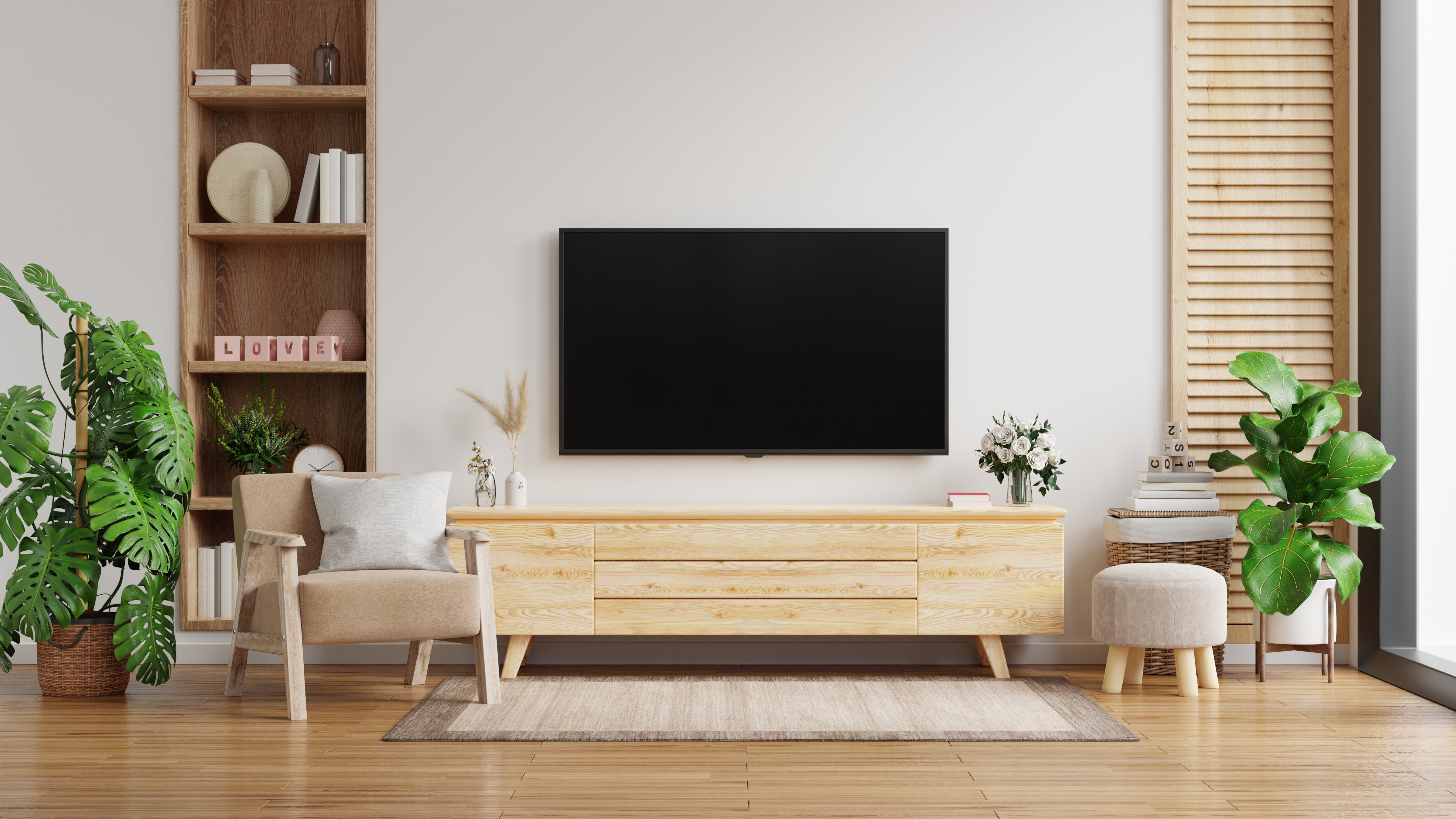 Small living room design ideas ensure that even the tiniest spaces of your room are perfectly proportioned and that there is no wasted space. Keep in mind that small living rooms may have present challenges such as limited space, but if well-designed, they can offer as much comfort as a larger space with all the coziness and accessibility.
Time to decorate!
Get ready to take note of all these tips and transform your small living room into a space that you'll never want to leave in your home!
Use light colors for walls and opt for a neutral scheme
Light colors will open up your space and keep it looking bright and more inviting, especially for small spaces — it's a classy yet effective trick. It's best to stick to pale tones such as white, cream, or grey to keep your room feeling light and airy. 
Combine this light-colored wall with a neutral or earth color scheme for your living room design ideas. Neutral tones will help a small room feel larger. If you want to incorporate a youthful vibe into your space, you can pop in vibrant colors like yellow, blue or green to your main neutral scheme.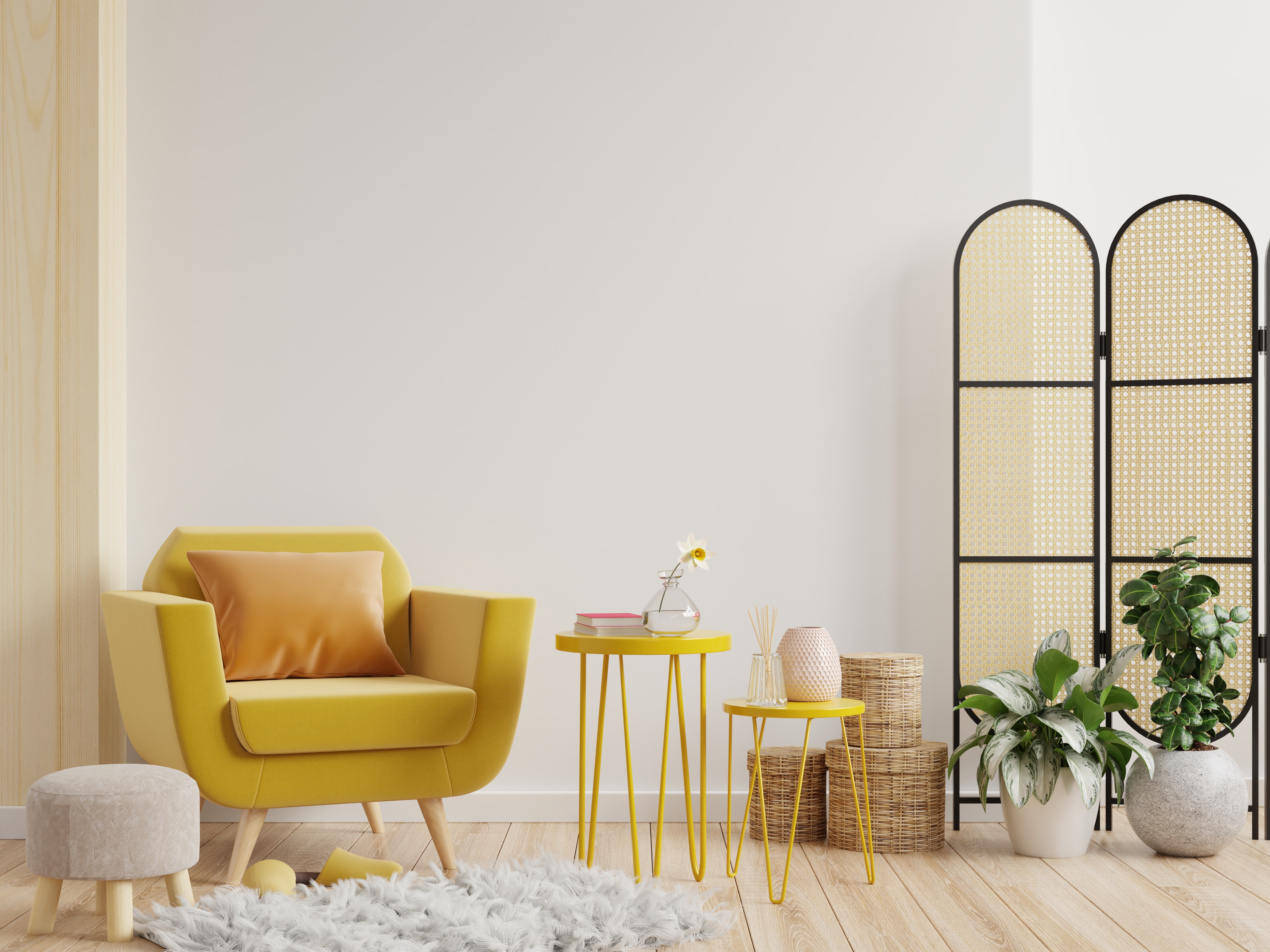 Go green.
Introduce nature to your space. Adding some succulents or a lush fern, greenery adds a breath of life to your compact space. You may also consider adding a hanging planter — won't take up floor space, plus it's functional!
Create space using mirrors
Sounds cliché, but it really does work like magic! Create the illusion of creating more space by simply adding more mirrors. Opt for an oversized mirror to cover an entire wall. This creates the illusion of space by reflecting both natural and artificial light — making your space appear larger and doubling it up. Mirrors also make it seem like there's a more open flow. You can add a mirror on top of your small cabinet, or hang a mirror on a wall opposite a window, or mirrored cabinet doors!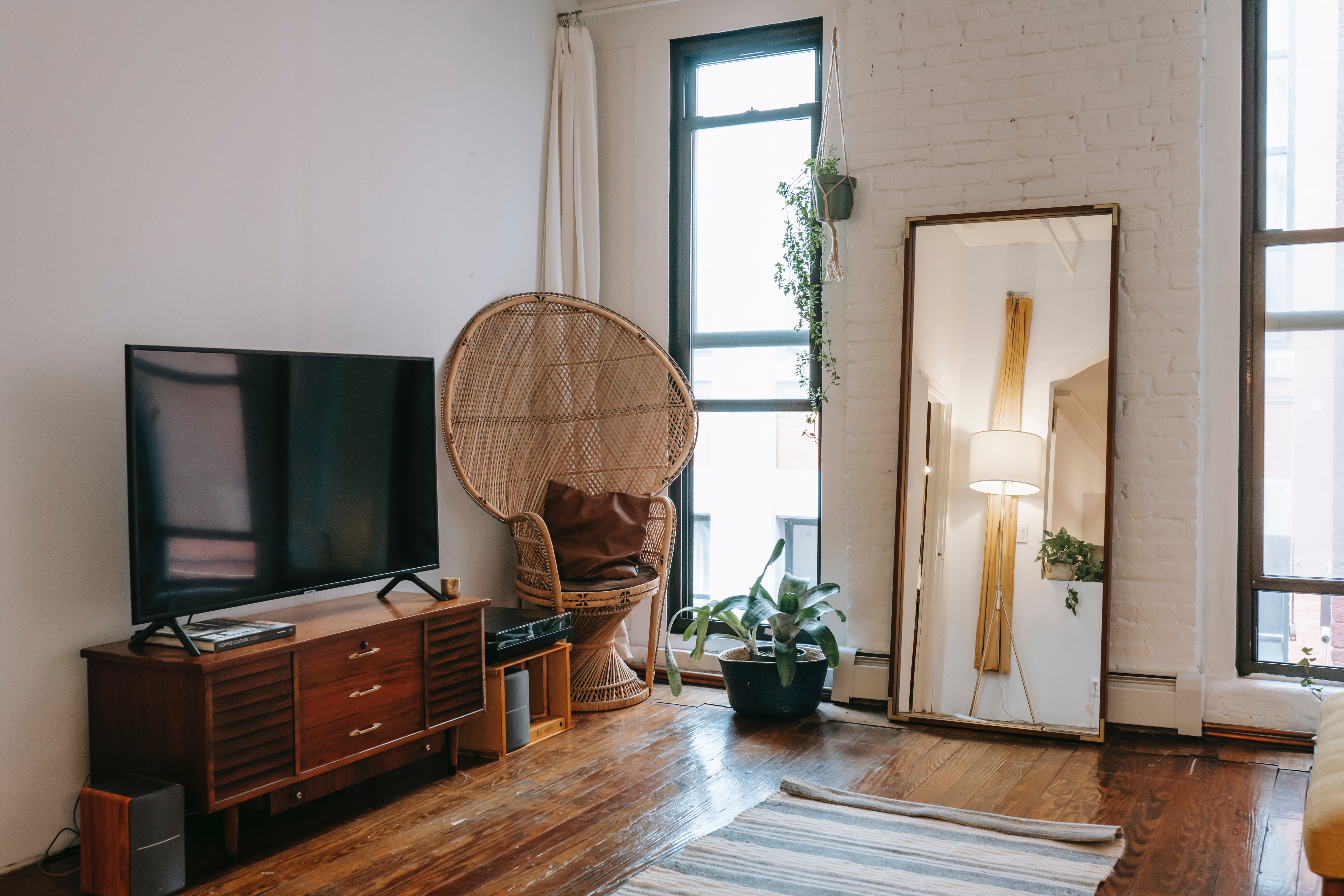 Embrace natural light.
For a small living room design, choose a light-colored curtain to allow the natural light to flow into your room. Light contributes a lot in brightening your room instantly, so, take down any heavy and dark window coverings. Dark corners can make your space appear small and cramped. You can also try installing white wooden blinds or shutters for natural light during the daytime and still provide privacy at night.
Up the storage potential.
When it comes to small spaces, you have to make the most out of every inch available. Do not hesitate to pop an extra storage on free vertical spaces on walls or unused corners. You can also install hanging shelves for books or décor. It's an excellent way to use your space wisely instead of adding bulky cabinets. This will also keep your items on your wall and have a clean look. Also, maximize your built-in shelves in your living room. Make it a storage, or a small library or you can modify it to fit your television.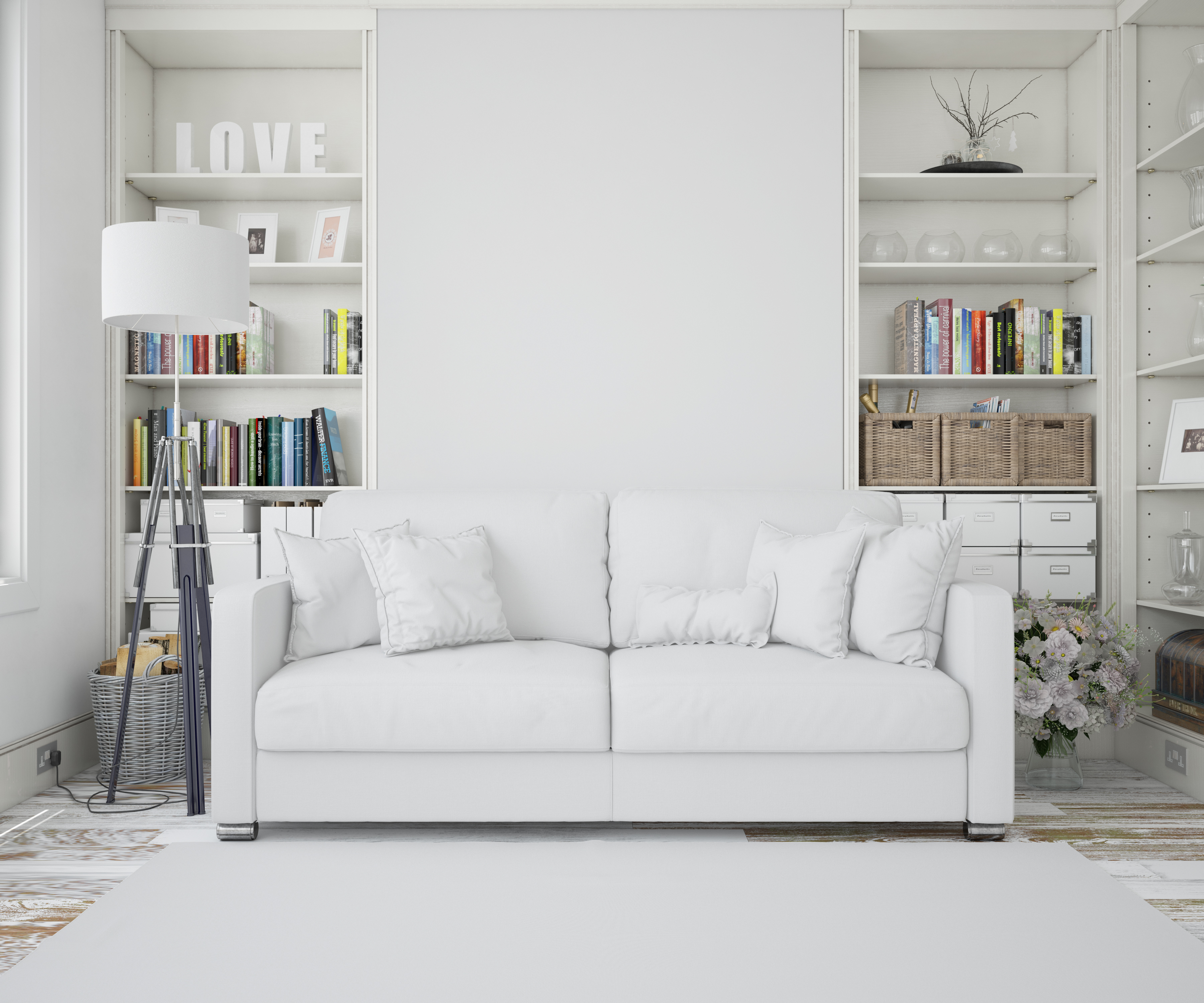 Swap your sofa for a small snuggler.
A bulky sofa can definitely eat up your tiny small living space. Make sure to scale your furniture to fit the size of your room. Using an oversized sofa can also make your living room look smaller and will minimize the floor space that is visible. Remember that more visible floor space can make your room look larger.
Wall-mount your TV.
Wall-mounting young TV is the best option for small living rooms as it won't take up more valuable space. You'll also have more space beneath where you would otherwise put up a TV stand. 
Invest in multi-functional furniture.
Multipurpose furniture is like your best friend if you have a small living room. Invest with furniture such as a coffee table that could double as a storage bin, or a sofa with storage under the seat. These are smart ways to add style and function to your small living room, both at the same time.
Pop an L-shaped couch into a tight space.
Pop a light-colored L-shaped or sectional couch to efficiently use the space in your tight living room spaces. Always keep your dark spaces or dark room white to make the most of what little light there is.
 Keep furniture away from the wall.
Here's a common misconception — that furniture in a small living room must be pushed against the wall. You must leave gaps between the furniture and walls to give the room a space to breathe. So pull your furniture away from the walls for a couple of inches to give a roomier living room illusion. Take note that low sofas, chairs and tables can also make your room more spacious.
Now, go outsmart that limiting floor plan!
RELATED ARTICLES:
10 space-saving hacks for small kitchens
Which table shape is right for your dining area? Here's how you can tell.
Tips on Choosing the Right Tile Size and Shapes for your Home
8 Useful Home Improvements to Add Value to Your Property
CITATIONS: 
Valeris, M. (2020, April 23). 15 Small Living Room Decor Ideas That Won't Sacrifice Your Style. Good Housekeeping. https://www.goodhousekeeping.com/home/decorating-ideas/g32223836/small-living-room-ideas/?slide=9

Ebert, J. (2021, May 6). 34 small living room ideas – clever ways to plan and decorate a small space. Homes & Gardens. https://www.homesandgardens.com/spaces/decorating/small-living-room-ideas-222756

Shutterfly Community. (2021, March 16). 21 Ways To Decorate A Small Living Room And Create Space. Shutterfly. https://www.shutterfly.com/ideas/small-living-room-decorating/

Kelly, T. (2021, July 26). Small living room ideas – how to decorate a compact sitting room, snug or lounge. Ideal Home. https://www.idealhome.co.uk/living-room/living-room-ideas/small-living-room-ideas-87905#:~:text=Small%20living%20room%20ideas%20Choose%20seating%20with%20legs,Fill%20alcoves%20or%20bay%20windows%20with%20built-in%20storage.