Undas is once again just around the corner, and people are preparing themselves and the items they will bring to the cemetery in observance of these solemn feasts. Undas is a historical tradition in the Philippines that begins on November 1, celebrating All Saints' Day, and continues on November 2, commemorating the memories of those who have passed on during a solemn day referred to as All Souls Day. During the solemnity of these celebrations, Filipinos who will visit the cemeteries are advised to observe proper guidelines, not only regarding the atmosphere of the commemorations but also to ensure the health, safety, and security of all who will participate.
Just a couple of days ago, the two biggest cemeteries in Metro Manila released their updated guidelines for those who are looking to visit the tombstones and graves of their loved ones this coming Undas. The Manila City's website announced Manila North and South cemetery visitor guidelines to be implemented starting October 29 until November 2. In this article, we will discuss the content of these guidelines and rules that cemetery visitors should remember, expect, and follow during this year's Undas. 
Health & Safety Guidelines for Visiting the Cemetery This Undas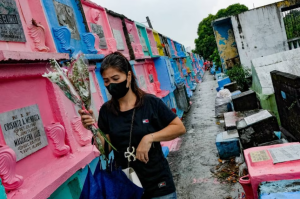 Image from ABS-CBN
Every year, the two biggest cemeteries in Metro Manila release general guidelines that all individuals who will visit the memorial grounds should follow. These guidelines are meant not only to preserve the solemnity of the celebrations but also to ensure the health and safety of those who will visit the graves of their loved ones during Undas. 
In the Philippines, All Saints' Day and All Souls' Day are usually family affairs where members flock together in the cemetery to celebrate the life and memory of their loved ones who have passed away. Because of this, a large gathering of people in cemeteries is the usual scenario, and the maintenance of the health and safety of people is enhanced. Below are the basic policies to observe when visiting cemeteries this Undas, based on the official guidelines of Manila City's North and South Cemeteries. 
What Not To Bring Inside The Premises Of The Cemetery:
Firearms and any sharp objects like knives, cutters, and scissors. 

Any flammable materials.

Any type of vehicle.

Any type of alcoholic beverages.

Any type of card used for gambling.

Any item that will cause loud sounds like videoke machines or sound systems.

Any unauthorized items meant to be sold.
Things To Remember While Inside The Cemetery:
Cleaning, repainting, restoring, and renovation of graves, tombstones, and mausoleums are not allowed after October 25.

Internment (the ceremonial burial of a coffin inside a grave) is postponed starting October 28 and will resume until November 3.

Main gates will be opened from 5 a.m. and closed on 5 p.m. on October 30 until November 2. 

No vehicles will be allowed to enter the cemetery after October 25 for the Manila North Cemetery, and October 28 for the Manila South Cemetery. 
Note: These policies are based on the official guidelines released by Manila City's website for the Manila North and South cemeteries. It does not apply exactly to all cemeteries in the Philippines. Properly contact the authorities of the cemetery you are visiting. 
When Bringing Children In Cemeteries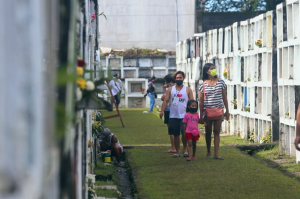 Image from Rappler
Cemeteries are always congested during Undas in the Philippines. Because of this, it is important to remember that bringing children into a crowded place can pose risks to both the child and the parent. Being mindful of the child's location is one thing, and keeping an eye on them is another. Make sure to keep children under strict supervision while inside a crowded cemetery and keep them away from dangerous items like lighters, matches, and candles. 
Fire Safety Tips For Celebrating Undas At Home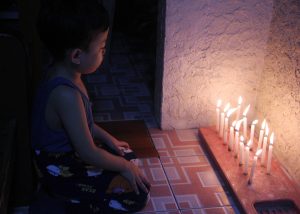 Image from Philippine News Agency
For those observing the solemn feast inside their own homes, preventative measures for fire safety should still be followed at all times. Recent data released by the Bureau of Fire Protection revealed that although fewer fire incidents were recorded this year, the number of casualties went up. During Undas, the tradition of lighting a candle in memory of those who have passed is still prevalent, which is why regardless of whether being in the cemetery or not, fire safety should still be observed at all times. Below are 6 essential fire safety tips to remember for this coming Undas.
1.  Keep all matches and lighters out of reach of children.
2. Keep candles away from flammable materials.
3. Keep the candle in an open space.
4. Never leave a candle unattended.
5. Unplug all electrical appliances before leaving the home.
6. Close the gas valve and stove before leaving the home.
Observing Health and Safety This Undas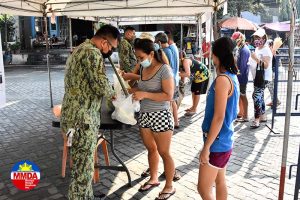 Undas is a nationwide solemn celebration observed by many Filipinos from all walks of life. Because of this, it is important to remind ourselves of the importance of observing guidelines meant to preserve our own safety and health during the celebrations. By doing so, we can ensure that we can spend Undas peacefully with our families and friends without worrying about potential threats inside a congested area. 
References
City of Manila. (2023, October 15).

UNDAS 2023 ADVISORY: The City of Manila reminds the public of the guidelines to be implemented at Manila North and South Cemeteries from October 29 to November 2, 2023 | Lungsod ng Maynila

. City of Manila. Retrieved October 25, 2023, from https://manila.gov.ph/undas-2023-advisory-the-city-of-manila-reminds-the-public-of-the-guidelines-to-be-implemented-at-manila-north-and-south-cemeteries-from-october-29-to-november-2-2023/

Hernandez, G. (2023, May 30).

Undas: Celebrating Death Through Life in the Philippines

. TalkDeath. Retrieved October 25, 2023, from https://www.talkdeath.com/undas-celebrating-death-through-life-in-the-philippines/

Parungao, A. (2023, October 11).

Manila North Cemetery releases 'Undas' 2023 guidelines

. Inquirer.net. Retrieved October 25, 2023, from https://newsinfo.inquirer.net/1844377/fwd-manila-north-cemetery-releases-guidelines-prohibited-items-for-undas-2023

Quezon City issues Undas guidelines | Philstar.com

. (2023, October 21). Philippine Star. Retrieved October 25, 2023, from https://www.philstar.com/nation/2023/10/22/2305656/quezon-city-issues-undas-guidelines