Leading building solutions provider Holcim Philippines's efforts to drive business results and positive impact were recognized in the 2023 Europa Awards, with the company bagging top prizes in the Digitalization for Sustainability and Water Resource Management categories.
In a night recognizing excellence in sustainability, Holcim Philippines further distinguished itself for being the only multiple awarded and a finalist in the Waste Management category.
Organized by the European Chamber of Commerce of the Philippines, the Europa Awards recognizes companies for exceptional performance and contributions in promoting sustainability in line with the United Nations' Sustainable Development Goals and the Philippine Development Plan.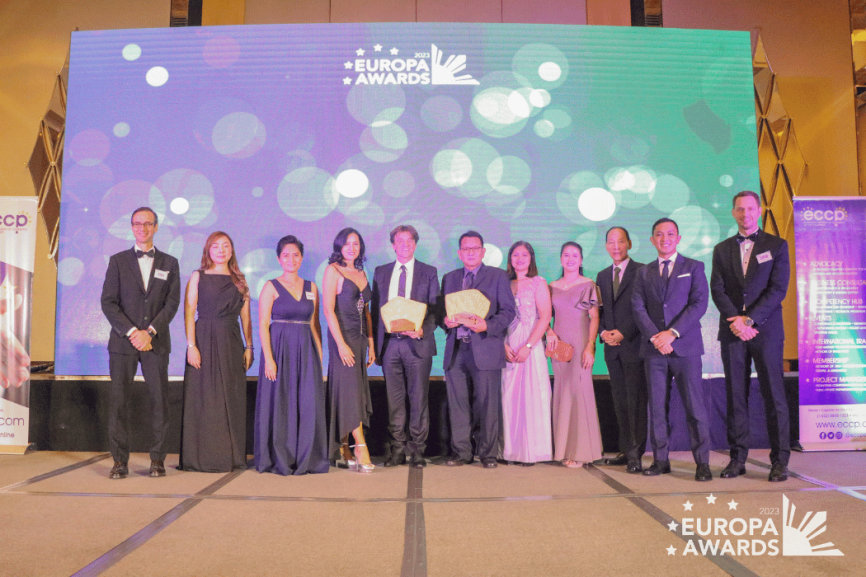 Holcim Philippines President and CEO Horia Adrian: "Thank you to the organizers for the recognition and to our people and stakeholders helping us make the company a stronger development partner of the country. These awards further encourage us to accelerate our transformation anchored on sustainability and innovation to win with purpose and help build progress in the Philippines."
The company received the Water Resource Management Award for excellence by managing water resources through innovative approaches and practices. The company highlighted its success in reducing freshwater withdrawals by 64% since 2018, driven by investments in systems for operational efficiency and rainwater harvesting facilities.
Holcim Philippines aims to cut freshwater withdrawals to zero and provide water to the communities by 2030.It was the second water award Holcim Philippines received in 2023 with the company also bagging the Wise Water Choice Award from the National Water Resources Board earlier this year.
Hocim Philippines also took home top honors in the Digitalization for Sustainability category for excellent use of technology to reach sustainability goals. The company highlighted its digitalization programs, raising the efficiency, safety and environmental performance of the business. Of particular note were its incorporation of data analytics for greater transparency and speed in decision making and Plants of Tomorrow initiatives focused on operational excellence and predictive maintenance.
Holcim Philippines is accelerating its transformation as a sustainable and innovative building solutions provided with a focus on advancing decarbonization and circular economy in the construction industry. Since 2018, Holcim Philippines has reduced its carbon footprint by more than 20% by producing more blended cements, replacing coal with qualified wastes as alternative fuels and raw materials, and improving efficiency of operations.
The company's carbon footprint reduction program is aligned with the Holcim Group's Net Zero direction and the country's Nationally Determined Contributions. Holcim Philippines also is working with key stakeholders to encourage the shift to low-carbon products that reduce the footprint of the built environment.
---
This is a press release. Minor edits were made prior to publishing.