The Philippine Statistics Authority (PSA) released the Construction Materials Retail Price Index (CMRPI) for February 2022 on June 3, 2022, for the National Capital Region.
The CMRPI continued its upward trend as the annual rate moved faster from 3.3% in February 2022. This is a notable increase considering that the annual growth in February 2021 was lower at 1.1%. You may refer to the table below for the growth rate from February 2021 to February 2022 for all commodities.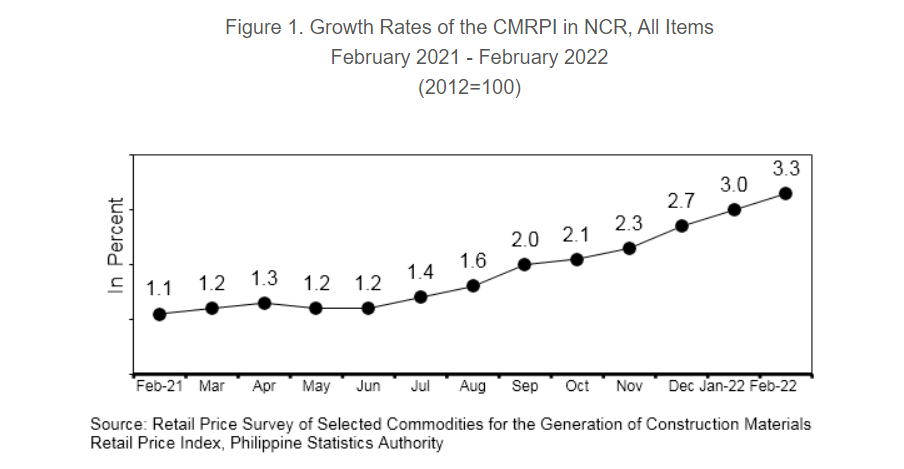 There are higher increments in the following commodities during the month:
Tinsmithry materials (5.2%)
Plumbing materials (4.5%)
Painting materials and related compounds (2.3%)
Annual increments in the indices of masonry materials and miscellaneous construction materials were also slower at 1.9% and 3.4%, respectively. Carpentry materials and electrical materials kept their yearly rate at 1.1% and 2.8%, respectively.

Citations:
Construction Materials Retail Price Index in the National Capital Region (2012=100): February 2022 | Philippine Statistics Authority. (n.d.). Psa.gov.ph. Retrieved June 24, 2022, from https://psa.gov.ph/content/construction-materials-retail-price-index-national-capital-region-2012100-february-2022?fbclid=IwAR3p3llMiLvs3z_RzY3pnVf1mvBdiVue5-2_dmy4VdUm7A777fxmlr3QwcQ