When it comes to real estate, celebrity houses are always there to pique the public's interest. The chance to take a glimpse of the luxurious views and glamorous lifestyle of celebrities is always there to catch people's attention. In recent years, many celebrities houses have hit the market, and we're here to take a sneak peek at these amazing properties. From spacious mansions to relaxing beach houses, these 5 celebrity homes serve as a mark of a celebrity's true opulence and style. We will explore the interesting features of each home that are highlighted as their unique selling points to make them stand out in the competitive real estate marketplace — as if being owned by the rich and the famous is not interesting enough! Get ready to be amazed by these simply stunning celebrity homes that are up for sale.
Manny & Jinkee Pacquiao Mansion – P2.3 B
Located in Makati City's Forbes Park, the world-renowned boxing champion Manny Pacquiao and his wife Jinkee Pacquiao have put their property up for sale for a whopping 2,300,000 pesos with a 2 billion peso gross.
Image from Inquirer
With stone cladding and teakwood, this Forbes Park mansion is a 3-Storey zen-inspired mansion with 5 spacious bedrooms, 7 toilet and bathroom areas, 2 auxiliary rooms for stay-in employees, and 4 car garages. All in all, this luxurious property encompasses 1,526 square meters of usable space with a 1,500 square meter lot area and a conference room truly fit for a busy, internationally famous celebrity.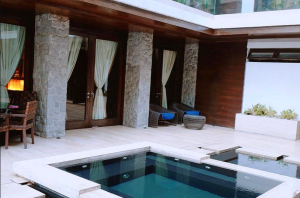 The property has been for sale since August 2020, but it is still up on property listings online and it is still up for grabs for people who have P2.3 billion pesos to spend.
Enrique Gil Beach Front Home – P80 M
Imagine waking up to peek past your wide windows and see the crystal blue water peacefully grazing against the white sand beach across your property. Enrique Gil didn't have to imagine that since that was his view every day in his Batangas beachfront home. Now up for sale for a hefty 80 million pesos, the actor's serene property is now available for a new owner to enjoy 5 floors, 5 bedrooms, one jetted tub with jacuzzi, an infinity pool, and a bar and grill area located on an open-spaced roof deck.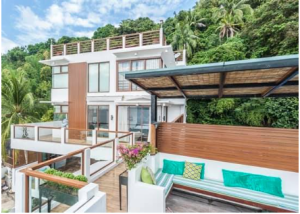 Image from Google
Enrique Gil's comfortable yet extravagant beachfront house is located in Anilao Proper, Batangas.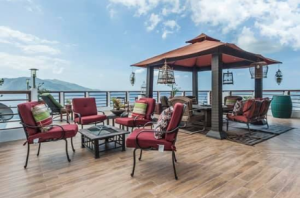 Image from Google
James Reid And Nadine Lustre Mansion – P85 B
One of the most popular celebrity houses in the market, singer James Reid and actress Nadine Lustre, put their Quezon City property on the market a couple of years ago with still no public announcement of the selling progress. This mansion boasts seven bedrooms, each with its own attached bathroom, spacious and open living area, and two large, functional kitchens.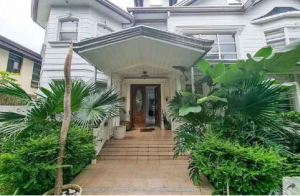 Image from pep.ph
This Q.C. mansion also features a professional-grade recording studio with complete soundproofing for music aficionados and a 25-meter lap pool for swimmers. Hopeful buyers will also appreciate the property's fully equipped gym and a 6-car garage.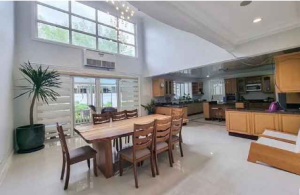 Image from pep.ph
Celebrity Homes For Sale
The allure of celebrity homes up for sale is unwavering. These 5 remarkable properties give the public a sneak peek at the lavish and extravagant lifestyles of the rich and famous, as well as potential future homes for those seeking a property upgrade. From remarkable spaces and beautiful views, these celebrity homes serve as reminders of the grandeur of fame and the reward of popularity.
References:
dotpropety.com (n.d) FOR SALE – Mansion in North Forbes Park, Makati City. Retrieved from: https://www.dotproperty.com.ph/5-bedroom-house-for-sale-in-makati-metro-manila-near-mrt-3-buendia_5970488
dotpropety.com (n.d) FOR SALE – Batangas Beachfront House for Sale Prime Property. Retrieved from: https://www.dotproperty.com.ph/5-bedroom-house-for-sale-in-bolo-batangas_7253353
Natale, B. (19 June 2023) Out With a Bang: Kaley Cuoco Hopes To Quickly Flip Her Sleek SoCal Mansion. Retrieved from: https://www.realtor.com/news/celebrity-real-estate/out-with-a-bang-kaley-cuoco-hopes-to-quickly-flip-her-sleek-socal-mansion/