Disposal of construction waste is an important part of construction operations. Globally, there is a significant push for construction businesses to dispose of their waste properly, and in the Philippines, the government is taking the necessary steps for all building projects to follow local waste management efforts adequately. The environmental impact of these projects is a significant result of the Philippines' growing economy, especially nowadays as the local construction industry launches more and more infrastructure projects which unfortunately can not avoid producing waste.
Adhering to the waste management regulations matters in taking care of and maintaining the sustainability efforts of the country. RA No. 9003 instructs the observance and support of local ecological efforts in waste management. Also known as the Ecological Solid Waste Management Act of 2000, RA. No. 9003 ensures the enactment of a sustainable waste management program that mitigates waste production in the country. C&D waste, also known as construction and demolition waste, is processed and controlled under this environmental action, as the DPWH head is included in the National Solid Waste Management Commission. In this article, we will discuss the best construction waste disposal practices to support the local environment preservation efforts. 
The Best Ways to Dispose of Construction Waste Properly
Construction waste is disposed of based on various types and ecological classifications. For example, solid construction waste is disposed of in a different manner, compared to liquid waste, and hazardous materials are disposed of in a specialized waste management center while simple wastes like wood or plastic can be delivered to a recycling facility. Below are the best ways for construction waste management disposal based on their classification.
Proper Disposal of Non-Hazardous C&D
Non-hazardous materials can usually still be recycled in waste management facilities, recycling places, or even institutions that accept material donations. The best way to avoid creating construction waste is to control the purchasing of excess construction materials. Below are the best ways to dispose of non-hazardous C&D.

Image from RTS
1. Old furniture
Renovation projects often collect old furniture and unused appliances that can be recycled or reused. Old furniture can also be donated to waste management facilities, but often, recycling centers and other waste-collecting institutions accept them. 
2. Extra Non-hazardous construction materials
Extra construction materials can be delivered to recycling centers, or donated to other construction management companies or projects that can make use of the materials. Again, the best way to avoid construction materials waste is to control and purchase sufficient materials without excess. Extra concrete and rubble can be delivered to concrete-producing facilities, wood can be delivered to any recycling or workshop center, and metal can be delivered to recycling or scrap centers. 
3. Site Clearance Waste (Surplus materials, old machinery or equipment)
Similar to non-hazardous materials, site clearance waste can also be delivered to recycling or workshop centers. In addition, something can also donate site clearance waste to other construction companies or projects that may take them in and reuse them. 
Proper Disposal of Hazardous C&D
The proper disposal of hazardous waste is necessary not just to comply with local waste disposal regulations, but also to protect the environment from dangerous types of waste. Hazardous waste includes construction materials with lead, mercury, and asbestos, to name a few. Below are the best methods to follow when disposing of hazardous C&D waste.
1. Lead-based or lead-compound materials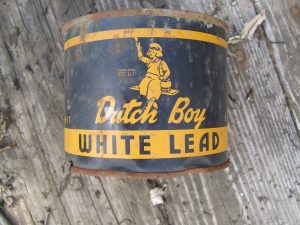 Image from Wikipedia
Lead-based paint, lead roofing, lead gutter and other lead C&D should be delivered to a solid waste facility that accepts lead-based and lead C&D waste. If lead-based paint is to be disposed of, carefully and safely scrape the paint off and collect the debris into a separate container before delivering it to the solid waste center. 
2. Mercury-based or mercury-contaminated materials
C&D materials with mercury should be taken to a mercury consolidation facility that processes and disposes of these hazardous materials. Mercury can usually be found in old materials like fluorescent lamps, old exit signs, and manometers. While disposing, it's necessary to handle the materials carefully and avoid breaking them to prevent the mercury from spilling. 
3. Asbestos 
These hazardous materials should be disposed of properly because they can pose potential health risks. When removing or disposing of asbestos materials, contact an asbestos abatement center to remove and dispose of the hazardous C&D material properly and safely. 
The Importance Of Proper C&D Waste Disposal

Image from BioEnergy Consult
Globally, proper waste management is important to support sustainable environmental efforts. It is important to observe these measures and promote awareness of the proper disposal processes, as they should be maintained as a standard in the construction industry. Businesses in the construction industry should prioritize proper waste disposal practices to support local ecological efforts in waste management and protect the environment. 
References
Conserve Energy Future. (n.d.).

Ways to Recycle Your Construction Debris and Waste

. Conserve Energy Future. Retrieved September 25, 2023, from https://www.conserve-energy-future.com/ways-recycle-construction-debris-waste.php

The Constructor. (2020, May 19).

How to dispose of Construction Waste Safely?

The Constructor. Retrieved September 25, 2023, from https://theconstructor.org/construction/how-dispose-construction-waste-safely/40835/

Designing Buildings Wiki. (2022, January 21).

Lead in construction – Designing Buildings

. Designing Buildings Wiki. Retrieved September 25, 2023, from https://www.designingbuildings.co.uk/wiki/Lead_in_construction

Official Gazette. (2001, January 26).

Republic Act No. 9003

. Official Gazette. Retrieved September 25, 2023, from https://www.officialgazette.gov.ph/2001/01/26/republic-act-no-9003-s-2001/

One Planet network. (2021, February 19).

Ecological Solid Waste Management Act of 2000 (RA 9003)

. One Planet network. Retrieved September 25, 2023, from https://www.oneplanetnetwork.org/knowledge-centre/policies/ecological-solid-waste-management-act-2000-ra-9003