The Christmas season is arriving once again and Filipinos are pulling out their seasonal decorations to design their living spaces with the best and prettiest Christmas adornments. Christmas trees, parols, and, of course, classic fairy lights are a staple addition to any classic Christmas display of a Filipino household. Without them, it will be hard to make a home feel like it's Christmas. These common Christmas decorations are almost a requirement in many households during the holidays, which is why all homeowners should be aware of the proper installation practices of these common Christmas decorations.
While parols and fairy lights may seem attractive additions to any Christmas display, it is still important to understand the technical aspects of these decorations. Your home's electrical load capacity is definitely a piece of important information to know before installing Christmas decorations, or adding more to the permanent light fixtures and other electrical appliances that are used year-round. There are potential risks associated with overloading your home with decorations. In this article, we will discuss the technical side of adding Christmas decorations to the home. We will also discuss instructions on how to check the wattage of common Christmas decorations to help you ensure your home's safety for the holiday season. 
How Do I Figure Out The Electrical Load Capacity Of My Home?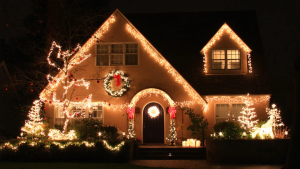 Image from NewsNation
Most homeowners will be made aware of the total electrical load capacity of their home by the contractor. However, for homeowners who are residing in homes that are not originally theirs, or homes that have gone through renovations they did not supervise, asking the contractor or the previous owner about the electrical load capacity of their home can be challenging. 
According to Spruce, figuring out the electrical load capacity of your home can involve simple estimation using the period when the house was built. In old homes built before or around the early 19th with knob-and-tube wiring and screw-in fuse fixtures, the electrical load can be around 30 amps. In homes built after the 1960s, the electrical load can reach up to 60 amps. However, it is important to know that with the current electrical capacity of modern appliances, these levels will be too low and can result in issues with the electrical capacity of the circuits. 
In modern homes, 100 amps are considered the average electrical load. In larger, modern homes with more than 10,000 square feet, the average electrical load can be 800 amps service. When you are looking to add more appliances or Christmas decorations for the Christmas season, it is important to know the amp service of the residence to avoid overloading the circuits.  
Average Watt Consumption of Common Household Appliances And Christmas Lights
Image from Bob Villa
It is considered that only 80% of your home's total electrical load capacity should be used. For example, if you have a 2,400-watt circuit, then it is not safe to plug in appliances and Christmas decorations on that circuit that can exceed the 1,920-watt (80%) consumption. So if you already have a television set that averages an electrical consumption of 50-60 watts, a couple of electric fans that consume an average of 40 watts each, and a window air conditioner unit that uses an average of 900 to 14400 watts per hour, then plugging in a 100-count string of iridescent lights that uses 40 watts per hour is not safe. To know the specific watts per hour usage of your home appliances and Christmas decorations, refer to their product information in its packaging or consult the manufacturer.
Keeping Your Home Safe This Christmas Season
Observance of proper electrical safety practices is important, especially during the holiday season when additional items like classic Filipino Christmas decorations, lights, and parols can add to the consumption of your home's overall electrical load service. Be responsible this holiday season and make sure to check all the electrical usage of the decoration items you will be adding to your home this holiday season. 
References
Allen, E. (n.d.). Christmas Lights Power Consumption. Christmas Lights, Etc. Retrieved October 18, 2023, from https://www.christmaslightsetc.com/pages/how-much-power.htm
guide, s. (2023, February 25). How Much Electricity Does an Air Conditioner Consume? TCL. Retrieved October 18, 2023, from https://www.tcl.com/ph/en/blog/how-much-electricity-does-an-air-conditioner-use
How Many Watts Does a Fan Use. (2023, May 20). Jackery. Retrieved October 18, 2023, from https://www.jackery.com/blogs/knowledge/how-many-watts-does-a-fan-use
Marsh, J. (2023, September 19). How Many Watts Does a TV Use? EnergySage. Retrieved October 18, 2023, from https://www.energysage.com/electricity/house-watts/how-many-watts-does-a-tv-use/
Penna Electric. (n.d.). Electrical Load Calculation: 3 Steps To Get It Right. Penna Electric. Retrieved October 18, 2023, from https://pennaelectric.com/electrical-load-calculation/
Thiele, T. (2022, October 9). How to Calculate Electrical Circuit Load Capacity. The Spruce. Retrieved October 18, 2023, from https://www.thespruce.com/calculate-electrical-circuit-load-capacity-1152739