The increase, brought on by multiple petitions from transport groups, will be enacted on October 8 and will be adopted by both traditional and modern jeepney types. For traditional jeepneys, the usual  ₱12 will be raised to ₱13 while modern jeepney fare will go from the usual ₱14 to ₱15 starting at 12:01 am on October 8, Sunday.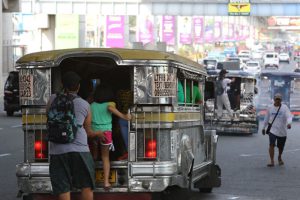 Image from The Philippine Star
According to Land Transportation Franchising and Regulatory Board (LTFRB) Chairman Teofilo Guadiz III, the current ₱1 jeepney fare hike is only interim, as the board is still deliberating the preexisting ₱5 minimum jeepney fare increase with ₱1 addition for each succeeding kilometer petition by public transport groups to provide financial relief to jeepney drivers and operators to soften the effects of rising gas prices. The ₱5 hike petition will most likely not be approved within the year, since the plea's stipulations include a large price hike. According to Guadiz, the increase is expected to have significant ramifications for the country's economy once enacted. 
"It will be difficult to resolve this year because so much data is required and it would heavily affect the economy. For every peso we increase, it will trigger inflation," Guadiz said. 
A Fare Hike For Fair Reasons
The ₱1 provisionary fare hike is expected to provide at least ₱250 for every jeepney driver a day, which can help them increase their funds to cover the rising gasoline and diesel prices in recent months. The hike also comes in time as the country is currently experiencing food inflation and other rising prices in some common commodities. Pasang Masda president Obet Martin said that the ₱1 jeepney fare hike is necessary and that the provision hike considered the effects of every centavo raised by the LTFRB on the commuter's budget. 
"The plight of the commuters is being taken into consideration. We are appealing for understanding because there is a need for an increase of ₱1," Martin said.
Commuter groups did not reject the price hike either, as an informal survey conducted by The Passenger Forum (TPF) revealed that 43% of responders said that they would agree to a ₱1 fare hike if it is necessary. 
LTFRB Chairman Teofilo Guadiz III called for jeepney drivers to wait until October 8 before implementing the ₱1 fare hike, and that every PUV caught charging the ₱1 increase before October 8 will be flagged and face suspension or revocation of their license. 
The current fare increase is limited to ₱1 and there will be no additional increase to every succeeding kilometer. 
The pending jeepney price hike petition of ₱5 minimum jeepney fare increase with ₱1 addition for each succeeding kilometer will still be discussed by the senate on Nov. 7.