We are all familiar with Japan as the country with one of the most advanced technologies in the world. In Japan, someone intertwines seamlessly with tradition and innovation in people's personal and professional lives, and many Filipinos are hopeful to work in the country to reap the financial and educational benefits of its successful business landscape. Filipino construction workers who want to experience the prosperous world of the Japanese construction sector are looking to secure a professional career in the industry, and for good reason. From its architectural marvels to its relentless pursuit of innovation, Japan is truly the place to be for anybody who wants to be a part of a dedicated workforce that constructs some of the most remarkable infrastructure developments in the world. 
Japan's Thriving Construction Industry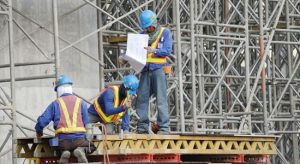 Image from GAINFORD
Advancements in Japanese technology continue to flow into and influence the development of multiple of the country's sectors and the construction industry is very much included. According to an article published by ResearchandMarkets, the Japanese construction industry is predicted to experience a 4.6% increase this year and reach JP¥35,516 B, which is roughly equivalent to ₱13.6 B considering economic fluctuations in 2023. Despite certain challenges in the sector, the Japanese construction industry is still expected to continue growing throughout the year.
Filipinos have been one of the most in-demand workers in Japan. In 2023, around 200,000 Filipino migrant workers make up the population of the country. Skilled Filipino professionals work in various industries like IT, healthcare, and the construction industry. Just last February, The Manila Times reported that 80 Japanese companies are vying to hire more Filipino workers in their workforce, as Filipinos are known to be highly skilled, trainable, and have a remarkable work ethic.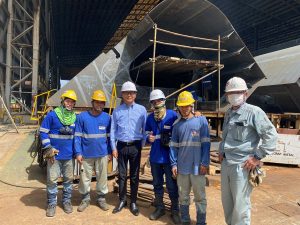 Image from Gurutto Asia
Many Filipino construction professionals are seeing the significant financial and career benefits of working in Japan. In addition to this, OFWs in Japan often cite the positive work environment in the country that inspired them to continue working in the country if possible.
"Our employers are kind. Sometimes, they even bring food for us," an OFW in Japan shared with Migrant Workers Secretary Susan Ople during a forum with the Filipino workers in Osaka City. 
Average Salary Of Construction Workers In Japan
Undoubtedly, Filipino construction professionals based in Japan earn significantly higher wages than those in the local construction industry. However, this comes at the expense of staying in a country with a drastically higher cost of living, having to learn a whole new language and culture, and living far away from families. But even with these challenges, many Filipino workers are seeing the long-term benefits of working in Japan, especially those who are interested in entering the Japanese construction industry. 
For those who are considering a career in Japan, Technical Internship Training Program (TITP) and Special Skilled Worker (SSW) programs are available to provide the necessary skills and knowledge to build a career in the country. The salaries of Filipino construction professionals who undergo these training programs differ from those who are already trained in specialized positions. According to SEA-VET.net, the monthly income of workers in Japan ranges from ¥130,000 (₱54,548) for entry-level TITP trainees to  ¥900,000 (₱377,640) a month for highly skilled professionals.
Below is a list of the average salaries of professionals in the Japanese construction industry as of September 2023, based on data published by the ERI Economic Research Institute.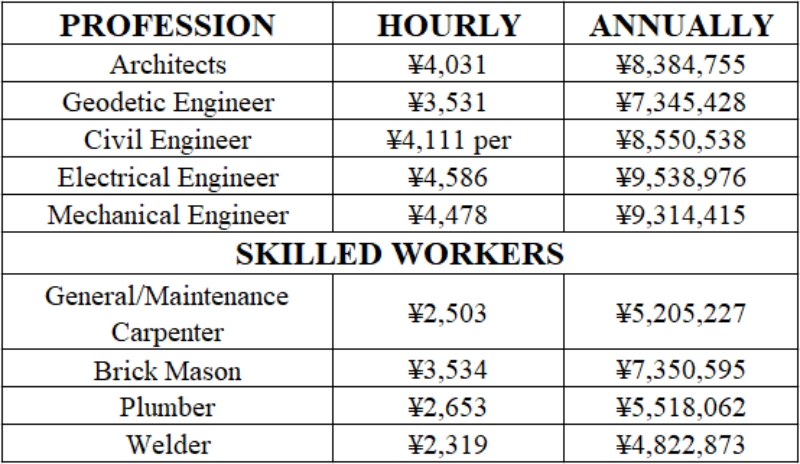 A Bright Future For Filipino Construction Professionals In Japan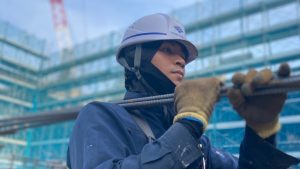 Image from Nikkei Asia
Filipino workers are one of the most preferred employees by many construction companies in Japan due to their remarkable work ethic, technical skills, and ability to adapt and learn. While the local construction industry is experiencing a significant expansion, many are still opting to gain experience in the Japanese construction industry. There are many career opportunities available for Filipino migrant workers who want to experience the technologically advanced sectors of Japan, and by obtaining the right qualifications, Filipino construction professionals can have a bright future in the Japanese construction industry.
References
ERI Economic Research Institute: Salary & Compensation Data Platform. (n.d.). ERI Economic Research Institute: Salary & Compensation Data Platform. Retrieved September 22, 2023, from https://www.erieri.com/

GlobeNewswire. (2023, July 11).

Japan Construction Industry Report 2023: Market Size and Growth Trends Across Residential, Commercial, Industrial, and Infrastructure Construction Sectors 2018-2027

. GlobeNewswire. Retrieved September 22, 2023, from https://www.globenewswire.com/news-release/2023/07/11/2702366/0/en/Japan-Construction-Industry-Report-2023-Market-Size-and-Growth-Trends-Across-Residential-Commercial-Industrial-and-Infrastructure-Construction-Sectors-2018-2027.html

Japan OFW. (n.d.).

5 Things OFWs Need To Know Before Working in Japan

. Japan OFW. Retrieved September 22, 2023, from https://japanofw.com/things-to-know-before-working-in-japan/

Maghanoy, C. C. (2023, February 13).

Filipino Skilled Workers in High Demand Among Japanese Employers

. SEA-VET.net. Retrieved September 22, 2023, from https://sea-vet.net/news/1257-filipino-skilled-workers-in-high-demand-among-japanese-employers