Homeowners are fond of personalizing their own space, and for good reason. Inside a home, a person's aesthetics can truly shine through their choice of furniture and of course, the interior design of the house. The way the homeowner allows the integration of their ideal visuals into the design of their home while still considering the functionality and their budget is important. This is why when it comes to the most permanent fixtures inside the home, careful assessment is necessary.
Countertops are some of the most personalized fixtures inside a kitchen. In the Philippines where the cooking culture is cherished, kitchen countertops are surely a part of every Filipino's most precious memories. Because of this, choosing the right type of kitchen counter is crucial in completing the Filipino home. In this article, we will discuss some of the most popular kitchen countertop types, as well as their pros and cons.
What Type Of Countertop Is Best For My Kitchen?
1. Ceramic Tiles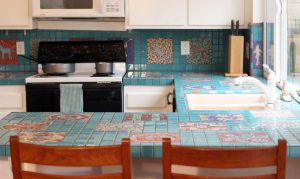 Image from Homedit
Ceramic tiles are highly durable, heat-resistant materials that are perfect for the kitchen. According to HGTV, ceramic tiles are commonly used in countertops in the West due to their affordability and how they can be easily used by homeowners who prefer to DIY their own kitchen countertops. Ceramic tiles are usually bulky, though, which is why the tile size is a big consideration when it comes to designing the countertop. 
2. Marble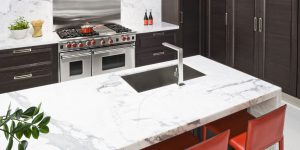 Image from House Beautiful
Marble is a classy and durable material that is also commonly used in kitchen countertops. Marble patterns are unique and they can give your kitchen a specific display of veining that naturally occurs in the stone. Marble is a little pricey, though, compared to common materials like ceramic, which is why it helps if the kitchen design highlights the marble countertop instead of having it hidden behind other patterns in the area. 
3. Granite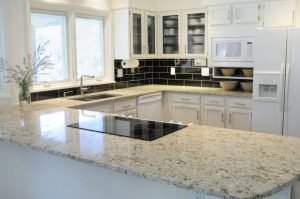 Image from Rock With Us
Another premium-priced kitchen countertop material, granite is also a heat-resistant option that can be convenient for homeowners who really like to keep their kitchens busy. Granite is a type of stone that is applied with a protective seal when fashioned into a countertop fixture, which allows it to be a long-lasting surface in your home for many years. Granite is a heavy material, though, which is why it should be properly installed by professionals.  
4. Soapstone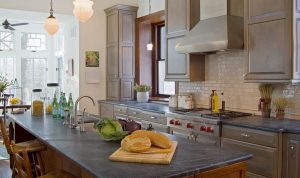 Image from Going Granite
Want a surface that does not stain? Soapstone can be the best material for your kitchen countertop needs. Soapstone is also a stone made mostly out of magnesium-rich mineral talc– in short, it is one of the most non-porous surfaces that can be fashioned into a countertop, making it heat, bacteria, and dent resistant. Homeowners who choose to install a soapstone for their patina, however, will have to wait many years before it shows up. Soapstone also needs to be oiled once in a while to maintain its soft, glossy appearance. 
5. Butcher's Block (Wood)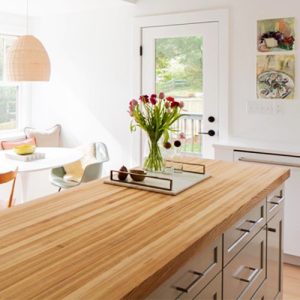 Image from Hardwood Lumber Company
Oak, maple, and even bamboo trunks can be fashioned into just about any size or shape to fit on your countertop. For homeowners who are looking to have a cozy, natural ambiance inside their homes, a butcher's block is the perfect kitchen countertop. One downside of a wooden countertop is that the material is very porous, which makes it susceptible to staining, and bacteria build-up. Wood is also not as heat-resistant as the other materials mentioned, so it can burn and mark. Applying a protective coating or seal can amend this. 
The Perfect Kitchen Countertop
There are an array of materials that can be used as kitchen table countertop, and homeowners who are looking to personalize their homes can benefit from their countless options. From classy marble to cozy butcher's block, homeowners can pick the best kitchen countertop material that suits their style and their budget. Ultimately, the perfect countertop is the one that perfectly complements your unique style without compromising. 
References
Dale, T. (2023, January 19).

10 Types of Countertops for Your Kitchen

. The Spruce. Retrieved October 17, 2023, from https://www.thespruce.com/top-kitchen-countertops-1977143

Hildenbrand, K. (n.d.).

The Pros and Cons of Wood Countertops

. HGTV. Retrieved October 17, 2023, from https://www.hgtv.com/design/remodel/kitchen-remodel/butcher-block-and-wood-countertops