Another K-Drama has been making the rounds with its adorable and kilig-filled moments.  Hometown Cha-Cha-Cha is probably one of the most popular Netflix series today.
Even if you were deeply invested in the series' love story, there's a good chance you missed this detail.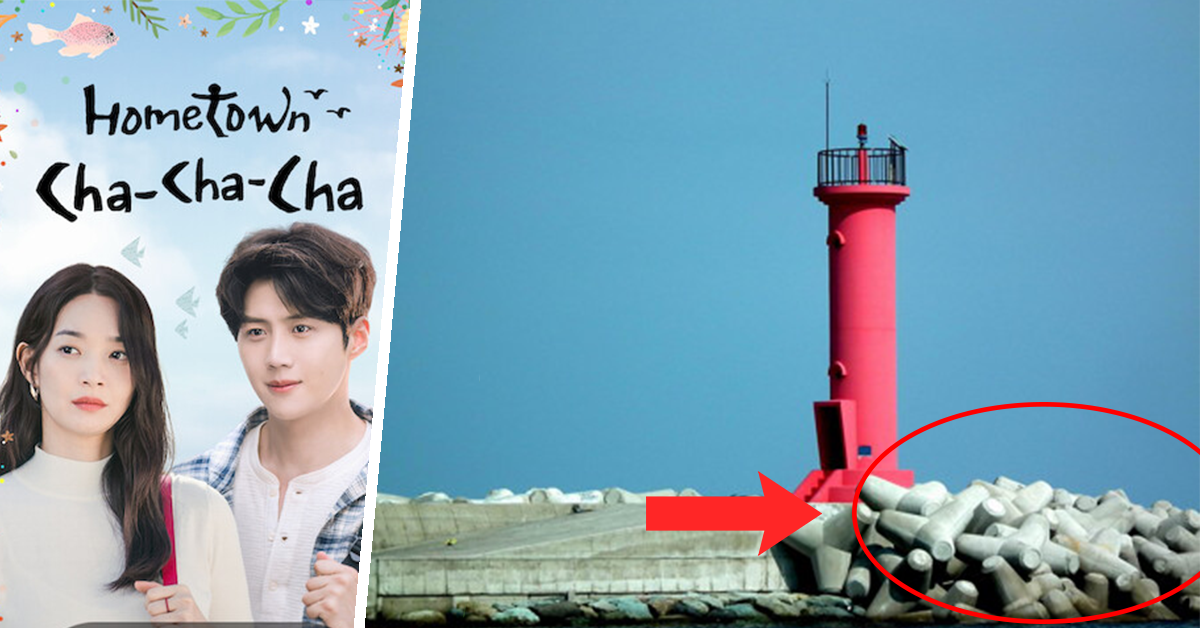 Photo Courtesy: Netflix Wiki Fandom and ibiblio
What are tetrapods?
The oddly-shaped, identical rock formations that can be seen dotting the coastline in some scenes in Hometown Cha-Cha-Cha are called "tetrapods" and are man-made concrete structures.
The four legs of a tetrapod stick out from the body, similar to a starfish. Concrete structures, like these four-legged tetrapods, are used to protect coastal areas from erosion.
Tetrapods have become so well-known that even three-legged concrete structures are now referred to as tetrapods.
RELATED: The Art and Architectural Inspirations Behind Squid Game's Set Design
What are tetrapods for?
A tetrapod is one of the many different types of "concrete armor units" that have been built all over the world for much the same purpose. As with seawalls and breakwaters, tetrapods help protect the coast from wave action and erosion while also serving to reinforce the structures that help keep the coast safe. Despite the fact that countries such as England, Morocco, and the United States have all used breakwater barriers, it appears that Asia, specifically Japan and Korea, have done so most readily.
Tetrapods in Japan. (Photo Courtesy: flickr)
When waves hit the tetrapods, they dissipate their energy by causing the water to flow around them rather than against them. By allowing tetrapods to mutually interlock, they also reduce displacement. Tetrapods can withstand extreme weather because of their weight and design. The tetrapods form an interlocking, porous barrier that dissipates the power of waves and currents when arranged in their hundreds.
RELATED: What's Inside Andrea Brillantes' 'Dream Teenage Room'?
Can tetrapods stand the test of time (like love in Hometown Cha-Cha-Cha)?
Breakwater concrete structures, on the other hand, have a finite lifespan. Because of the forces of nature constantly crashing against them, even concrete blocks like tetrapods will eventually become dislodged. As a result, all of the concrete structures eventually need to be replaced. Displacement or structural form changes in tetrapods are typically tracked using satellite photography.
RELATED: Top TV Shows Featuring The Construction Industry
Tetrapods also have criticisms
Tetrapods are useful, but their shape has earned them a lot of scorn over the years. Others claim that tetrapods actually speed up beach erosion by interfering with the natural processes that shape the coastal environment, making them a hazard to swimmers, surfers, and boaters. It's also been said that Tetrapods are ruining the natural coastal scenery with their presence. Wave action on tetrapods, it has been suggested, is faster than nature's natural process for removing sand from the shoreline
Despite widespread criticism, tetrapods can't be ignored. Tetrapods differ from other animals in nature because of their unique design and have proven to be extremely useful in a variety of ways, despite their association with artificiality rather than aesthetics.
CITATIONS:
Baird, S. (2016, November 25). Covering coasts with concrete: Japan looks to tetrapods to battle elements. Ars Technica. Retrieved October 22, 2021, from https://arstechnica.com/science/2016/11/covering-coasts-with-concrete-japan-looks-to-tetrapods-to-battle-elements/.
Manaadiar, H. (2018, October 22). Tetrapods and their role in the Maritime Industry. Shipping and Freight Resource. Retrieved October 22, 2021, from https://www.shippingandfreightresource.com/tetrapods-and-their-role-in-the-maritime-industry/.
What are Tetrapods? (Tetrapods Resist Wave Impact and Prevent Beach Erosion). Bright Hub Engineering. (2009, July 23). Retrieved October 22, 2021, from https://www.brighthubengineering.com/geotechnical-engineering/42962-what-are-tetrapods/.