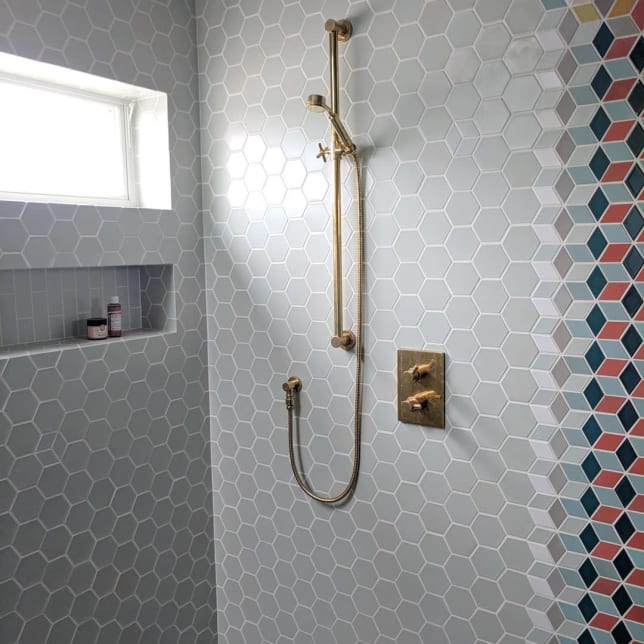 Did you know, more than half of homes in the United States have reported some problem with mold or mildew? Millions of people are highly susceptible to mold-related health issues. So, reducing excess moisture where mold spores thrive is one of the most important aspects of improving your indoor air quality.
Though mold and mildew can form anywhere excess moisture is present, bathrooms are one of the most common areas for mold growth to occur. One study of homeowners in the US found that mold was present in 49 percent of shower grouts and 50 percent of the shower walls. Finding ways to waterproof your shower's moist environment can undoubtedly help limit or even eliminate unwanted mold growth.
Below, Rise offers a complete guide on the shower waterproofing options that homeowners can use to enhance their healthy home. We will look at the best, low VOC options to ensure mold prevention in different types of showers.
What Shower Waterproofing Is Needed?
Most people assume that the tiles in your shower are 100 percent waterproof. Though ceramic and porcelain tiles on the floor and walls of your shower are virtually waterproof, the grout in between those tiles is not. Grout is nothing more than fine sand that is "glued" together with Portland cement and other types of adhesives. Grout does a great job at holding tiles in place. Still, it also readily absorbs water through the tiny capillary pores that are present throughout the mixture.
Without some sort of waterproof membrane beneath the layer of grout, those small masonry lines will gradually absorb water and cause water damage to whatever is underneath your shower. Plywood, drywall, and even the 2×4 studs of your wall or floor foundation are thus susceptible to wear and mold growth over time.
Below, we will talk about waterproofing methods for showers. Then we will look at the different types of membranes, coverings, coatings, or layers that can be used underneath the porcelain or ceramic tiles that make up your shower.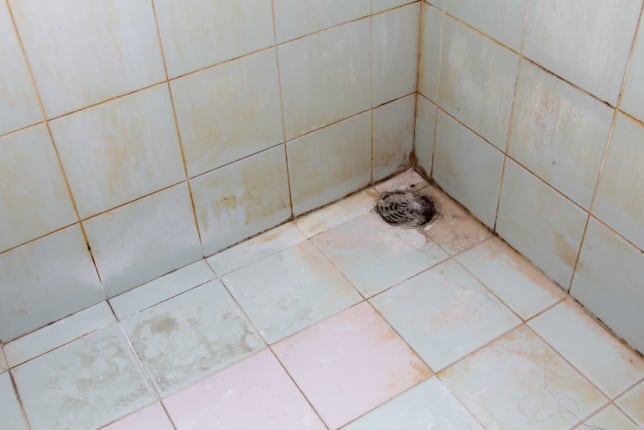 How To Tell If Your Shower Is Waterproof
So how exactly can you tell if your shower has sufficient waterproofing underneath the tile? Some tell-tale signs of a leaky shower include rotting floorboards, skirtings, door frames around the shower, water damage in floors and ceilings in adjacent rooms, dampness in carpets around the bathroom, the presence of cockroaches, silverfish, and other moisture-loving pests. However, before these severe issues occur, there are ways to detect a potentially leaky shower without ripping out tiles.
Some common indications that your shower is probably leaking water include:
Visible holes or cracks in the grout between individual tiles on both the flooring and the walls;
Cracking along the border and floor tile joints;
No silicone used along the joints between tile floors and walls;
Lack of silicone seals around the tapware studs of your shower;
Incorrectly installed puddle flange connected to the drainage system of your shower.
Suppose you (or a hired plumber) detect any of these issues. In that case, it is highly likely that your shower is improperly waterproofed and may be leaking water.
What Is The Best System For Waterproofing A Shower Floor?
There are several different ways to waterproof the floor beneath your shower tiles. In the past, most contractors used a rubber or copper shower pan liner that was installed below a traditional mortar base. This system essentially allowed water to seep through the mortar joints slowly. The pan liner collected this excess moisture to protect the subfloor beneath. A potential risk of using this type of system is that shifting or settling of the shower can affect the liner's slope. This problem leads to the pooling of excess moisture, thus leading to the inevitable growth of mold.
Today, most contractors have ditched the rubber or copper pan liner in favor of some waterproof membrane technology. These different waterproof membranes are placed directly beneath the tile layer to avoid any water penetration into the cement or mortar subfloor. There are four main types of waterproofing membranes in use today including sheet membranes, liquid membranes, foam wallboards, and foam shower bases. We'll dive into them below.
Sheet Membranes
Sheet Membranes are manufactured from different blends of plastic compounds attached directly to the tile backer board and shower surface. Most sheet membranes have a "peel and stick" technology for easy installation.
RedGard. Photo Credit: Home Depot
Liquid Membranes
This liquid membrane is essentially water-proof paint for your shower. These products are applied with a simple paint roller. Once dried, the membrane becomes an elastomeric layer that stays flexible. RedGard offers one of the most popular and easy-to-apply products for the quick waterproofing of your shower.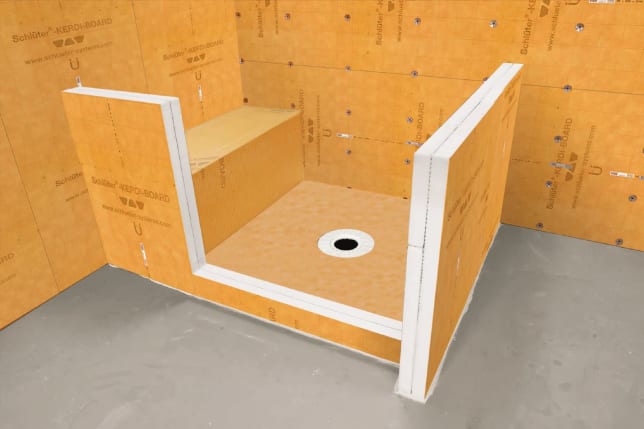 Kerdi Board Shower Construction. Photo Credit: Schluter
Foam Wallboards
Foam wallboards are installed as tile backers that offer structural stability. Because they are made from extruded polystyrene foam, they also provide a waterproof shower membrane. Kerdi Board is one of the most popular types of foam wallboards used for waterproofing showers.
Foam Shower Bases
Foam shower bases are often sold as kits that come with a foam shower curb that is waterproofed in the same way as the base. The equipment might also include a membrane bonding shower drain and seam tape. The foam used in these kits is often the same as the foam wall boards mentioned above.
The best system for waterproofing your shower floor will depend mainly on your budget and the remodel you are doing. If you are not entirely renovating your shower, liquid membranes are the easiest and quickest to install. If you are replacing a shower, opting for one of the other options will most likely add an extra defense layer against potential future water damage.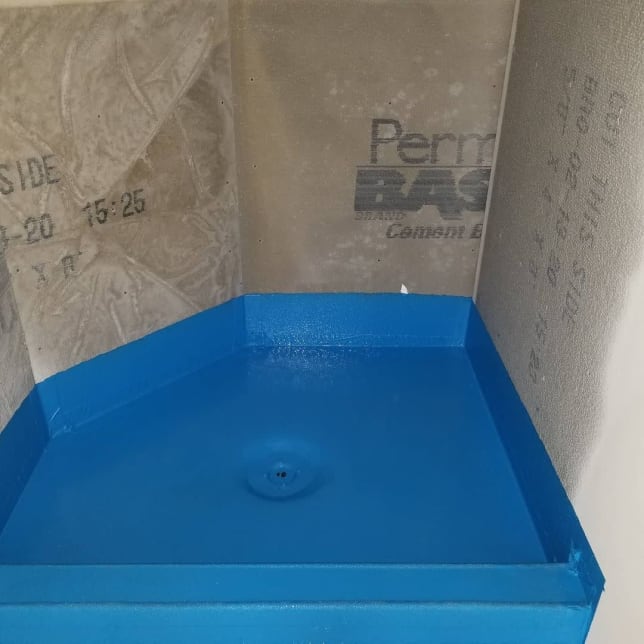 Photo Credit: Drip Drop Waterproofing
Is Cement Board Necessary To Waterproof A Shower?
A cement board is a common backer used for showers and bathtubs. However, the cement board is water-resistant and not waterproof. This feature is an important distinction that should be taken into consideration. If minor leaks are quickly detected, the cement board should stay intact even though its core is not waterproof. However, extended leaks will often lead to permanent damage to the cement board. You should always use another type of waterproof membrane together with a cement board backing.
How Are Screw Holes Sealed In Shower Wall Waterproofing Membrane?
The waterproof membranes we reviewed above were mainly concerned with stopping water penetration through the tiles' grout lines. However, if you screw or drill holes into your wall or floor tiles, an extra coat of waterproofing will be required. The best way to waterproof screw holes is to correctly mark your holes, use the right size drill bit, and pre-fill the holes with silicone before installing the anchors. Once the anchors and screws are installed, add another coat of silicone around the screw hole. Check out this Rise guide for the best low-VOC adhesives and sealants for your home.
How Many Coats Of Waterproofing Should Be Applied In A Shower?
If you are using a liquid waterproofing membrane for your shower (most common for DIY projects), you should install at least two coats. Most liquid membranes will come with directions related to how long you need to wait between applying coats. In most cases, you should wait 24 hours before applying the second coat and then another 24 hours before using the shower. When properly applied, liquid waterproofing membranes for the shower should last at least ten years before needing resealing.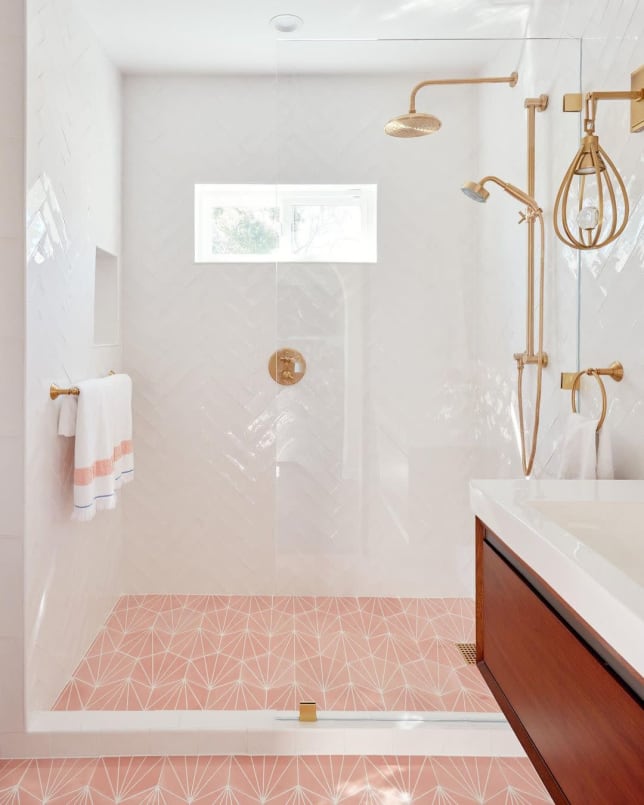 Photo Credit: Borden Interiors
How To Finish Waterproofing For Top Edge Of Shower
At the top edge of your shower, where the tile recedes to the wall, you should take extra care to add an extra layer of waterproofing. Drops and spray of water from your shower can accumulate at this critical point. If not properly sealed, moisture can penetrate underneath the tiles and cause damage to the cement board or other backing underneath the tiles. The easiest way to waterproof this top edge of the shower is with silicone caulking. If the gap is more than 1 cm thick, consider using a backer rod, a type of foam material used for this purpose.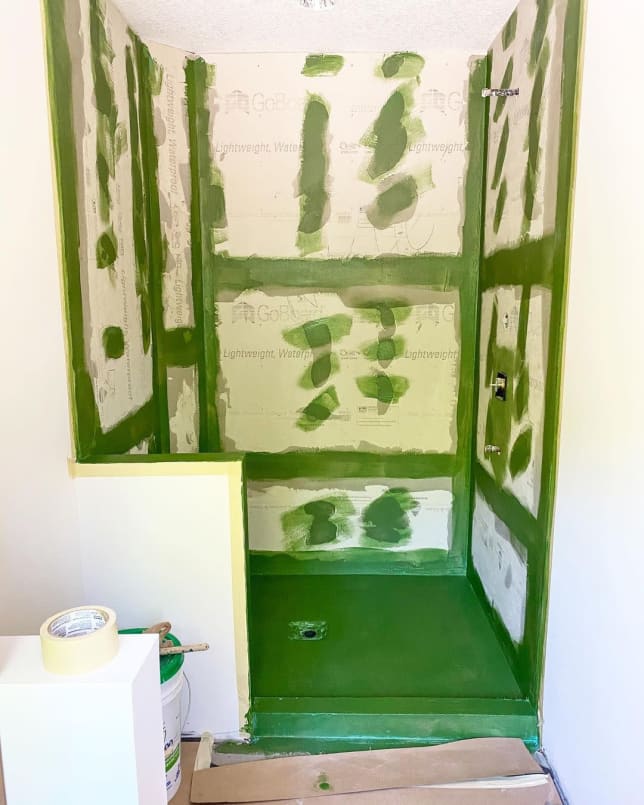 Photo Credit: Construction 2 Style
How To Install Waterproofing Membrane In Shower Walls
Liquid waterproof membranes can be applied to shower walls in the same way as to the flooring. You will want to go slow and apply a small amount to the paintbrush or paint roller you are using to make sure that it doesn't run down the wall. Alternatively, self-adhesive waterproofing sheets are another easy way to waterproof your shower walls. Sealing Solutions (SAM) offers unique, self-adhesive waterproofing sheets with a ten-year warranty on water tightness. You can apply these sheets to concrete, cement screeds, dry screed, existing ceramics (tiles), plasterboard, and even wood.
What Kind Of Tape Is Best For Cement Board Seams When Waterproofing a Shower?
Another critical element to waterproofing your shower is using the right type of waterproof seam tape at the connections between your backer boards. A simple, 2-inch alkali-resistant mesh tape should do the trick. You can also use a PVC self-adhesive caulking sealing tape.
What Type Of Shower Waterproofing Is Best?
The best type of waterproofing for your shower will depend on several different factors. In general, liquid waterproof membranes can be applied by homeowners for a simple, quick, and cost-effective way to waterproof your shower. If you are looking for a more robust and longer-term solution, opting for some sheet membrane or foam backer board is probably your best bet. For new shower construction, these more durable backer membranes are only nominally more expensive. You can combine them with liquid membranes for double the waterproofing effect.
Originally posted: https://www.buildwithrise.com/stories/shower-waterproofing