Are you curious about the latest kitchen design trends? 2022 will be a good sequel to 2021's trends that included storage, nature-themed accents, and new technology in lighting, appliances, and fixtures.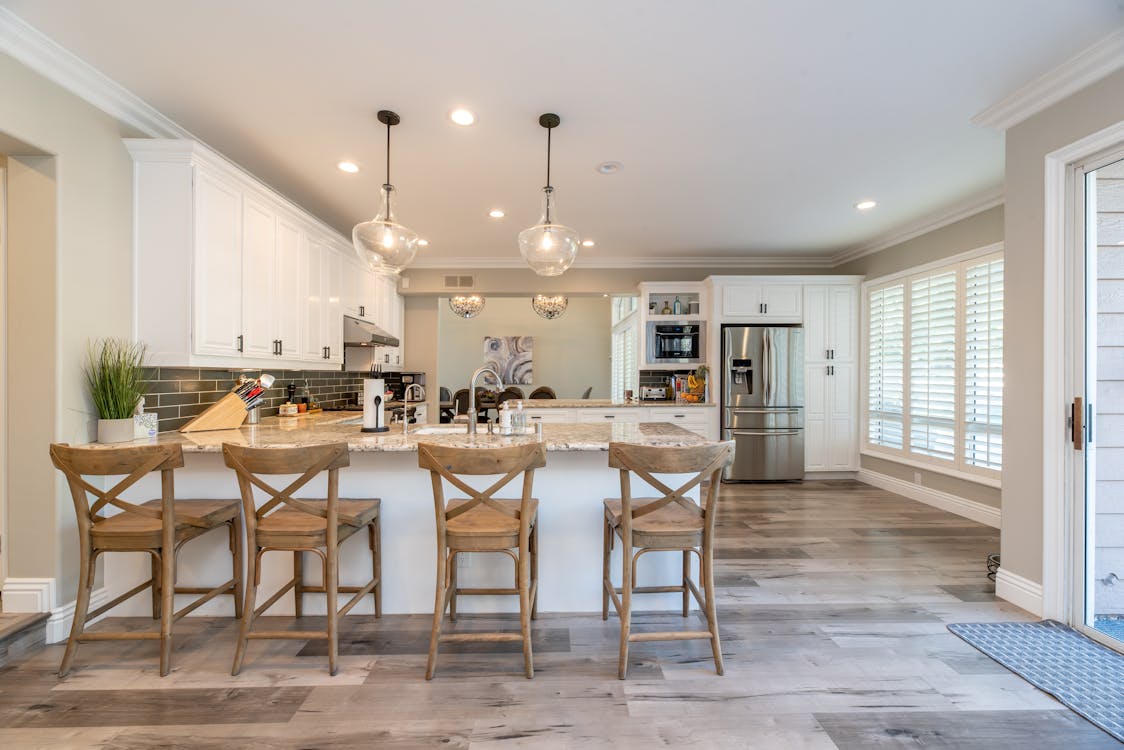 Photo by Terry Magallanes from Pexels
This coming year's designs add to the simple luxury of organic style, with updates and upgrades for functionality as the end goal. These trends are all about making your kitchen work for you, bringing substance and style to last the test of time.
Expect some of these shifts in kitchen design to take over 2022.
1. Walk-In Pantries
Photo from Pinterest
After the COVID-19 Pandemic changed people's buying and cooking habits, new cookbooks, small appliances, and food cans filled our kitchens.
In 2022, homeowners want more out of their kitchen storage than just a place to stash their goods. With more people leaning into recreational cooking, expect a rise in "working pantries" like a coffee nook or a dedicated space to keep and operate your kitchen appliances.
RELATED: Our Featured Builders Share their 2022 Construction Outlook
2. Light-colored Wood
Photo from Pinterest
No matter your chosen décor, light wood shades are an excellent choice. Poplar and oak are great for both traditional and contemporary kitchens.
In a traditional kitchen, this wood tone is suitable for a kitchen island with an inset cabinet. For a modern kitchen, this tone suits whole floor-to-ceiling cabinet banks, such as the refrigerator wall.
3. Kitchens as Living Areas
Photo from Pinterest
More than just a place to cook, kitchens today extend the living spaces in a house. We're treating it more like a living room than a kitchen, and it's working out well.
Dining sofas, table lights, and living finishes are becoming increasingly common in our designs.
4. Workstation Sinks 
Photo from Pinterest
Everything you need is right in front of you! In 2022, sinks are going to get a big overhaul, and there are two styles competing for your attention. The previous months have shown us that our kitchen sinks do not differ from the rest of our kitchens in that they must serve multiple functions.
The most desired kitchen feature is side-by-side double sinks. These sinks are popular because they allow multiple chores to be completed, such as preparing meals and washing dishes. They also come in a range of arrangements, allowing homeowners to choose between different basin sizes and depths, as well as faucet placement and mounting type.
RELATED: Top 6 Home Improvement Trends in 2021
5. Open and Floating Shelving
Photo from Pinterest
Floating shelves have become increasingly popular as an alternative to wall cabinets among homeowners.
Open shelving finds its place in storage and display, as well as at coffee stations and wine bars that are built up within the kitchen.
6. Smart Appliances
Photo from Pinterest
For several reasons, more kitchens are now fitted with high-tech appliances. Many appliance manufacturers are essentially improving and expanding their product lines to better meet the needs of today's smart homes. There is also a willingness among homebuyers to spend, even though appliances are more expensive at the moment.
RELATED: 5 Practical Home Improvement Ideas for 2022
Is your kitchen ready for a makeover?
CITATIONS: